Return to Academy
How to Find The Best Games for Both Teams to Score Market
This tutorial will show you how to research football games with the aim of betting on the Both Teams to Score markets. We will use real matches and data from FootyStats as a working example, learning which stats to look out for when researching your football bets.
What is Both Teams to Score?
BTTS, or Both Teams to Score, is a market that allows you to bet on wether both sides will find the back of the net in a match. It's prety self-explanatory. As you'll see in this article, there's plenty of value in this market when you know what stats to look out for.
Why Stats Are Important for Both Teams to Score Markets?
The first thing I look for when thinking about BTTS games, is that there /should/ be a good record of goals for both teams. Let's use this game between Brechin and Raith Rovers. I came across this fixture as I was doing my research for the weekends football and this stood out to me for a number of reasons.
Average or Above Average Away Record
Look out for sides that can handle themselves on the road. They do not have to be world-beaters, but just have the ability to score against sides better than them. In this case, the away side has won 40% of games and has scored 2.20 goals per game on average. Using the H2H page, I can quickly find out the following information on this team:
Percentage of Games Scored In
Failed to Score Percentage
Goals Conceded Per Game
To easily filter through thousands of games using these stats, use the match search.
For each of these stats, you can view the teams record on the road, at home or overall. In this case, the away side has failed to score in 0% of their games, both home and away so it's looking very likely that they will score again today. However, we first have to do our homework on the side that they're facing.
Goals Scored and Conceded
For both sides, it's important that they have a trend of conceding goals. Personally, I value goals conceded more than goals scored as I believe a terrible defence has more affect on a game than a sensational attack. If they're incapable of defending, the opposing team will not have to be at their best, nor will they need a star-studded lineup in order to find the back of the net.
In our example game, the home side (currently 8th) has conceded 1.50 goals per game at home this season. You can view this in the table under "Head to Head" stats. The away side has scored a high number of goals on the road, averaging 2.20 goals per game. This, combined with our initial look into the home side gives a great basic indication that both teams might score in this game.
I personally look for ~1.50 goals conceded as an indication of value. Next, it's very important to look at their recent form. Going off one or two stats alone is bad practise. If you're thorough and set rules and limits for yourself, you will be successful.
Recent Form (Results and Goals)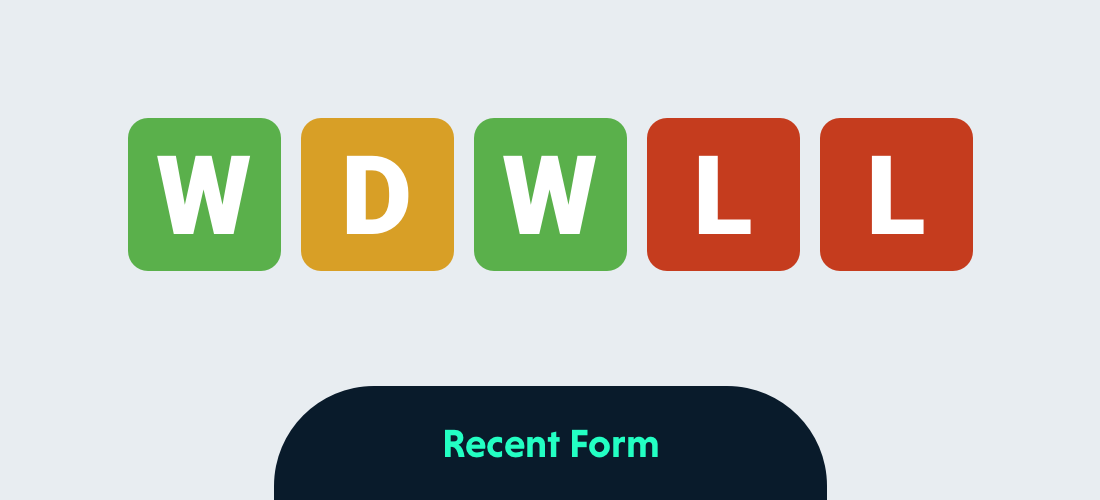 How are both teams playing? Are we seeing a miss-match in terms of quality and current form? Sometimes, it's exactly what you need. When we talk about form, it's important to think of everything and not just the results of a football club. Form, at least for me, means the following:
Recent Results
Scoring Trends
Conceding Trends
Time of Goal Trends
Everything is form. Remember this, as it will make you more cautious when it comes to predicting football matches.
Let's take a look at the form of the two sides in our example match. The away side has lost just once in the last five games, both home and away. The home side has won just two of the last five home games but has managed to score in four of those games. A quick glance at their overall home form shows me that they have picked up 1.40 points per game there this season. That's… Not bad. Not great, but not terrible either. They have won 40% of games.
As I mentioned before, picking a good game for BTTS is quite dependant on the away side. Can they score? If so, are they winning games or is their form inconsistent. In this example, it looks like the perfect match, with the away side winning two of the last five away games whilst scoring in every game.
Another quick glance at their overall away record, this time for confirmation, tells me that they have scored in each of their away games this season. You can combine this knowledge with the fact that the home side has failed to score in just 10% of their games. Statistically, it's likely that both teams will score given everything we have just discussed.
Overall Pre-Match Stats
The initial pre-match stats provided at the top of every head-to-head page on FootyStats give a good indication of what to expect from this game. For every match, you will be able to see the following: AVG Goals, BTTS Rank, Over 1.5+ Goals Rank, Over 2.5+ Goals Rank, AVG Cards, AVG Corners.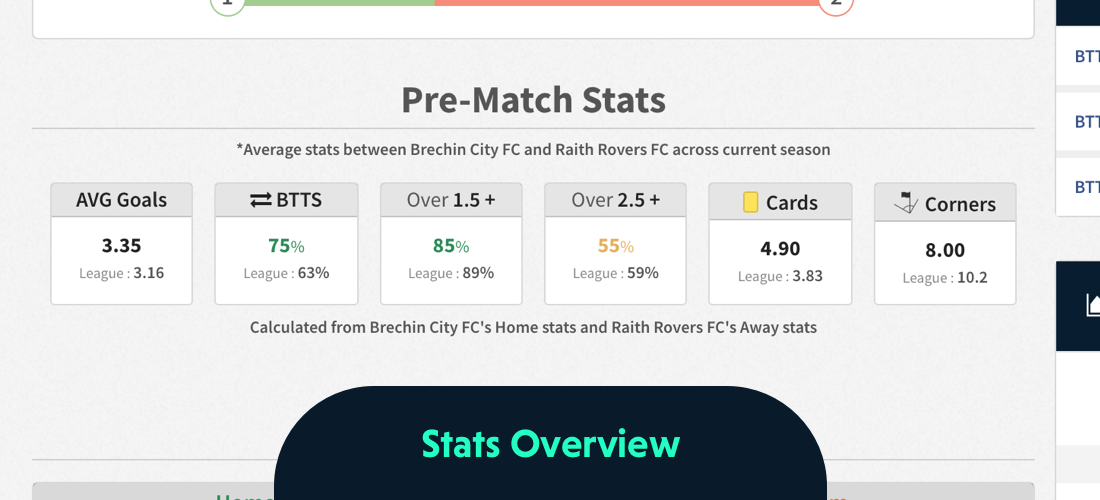 Jumping back to our example game from Scotland, we saw odds of 1.91 for BTTS. Incredible really, as the BTTS Rank was 75% and the stats we discussed above really told the story of two teams that have no issues scoring but have seen better days at the other end of the pitch. The away side won this game, as you might expect, with the home side getting their customary goal.
Finding Football Matches for Both Teams to Score
With the new match search tool, anything really is possible. You can use our quick filters to show only those games that are being played today with a BTTS Ranking of 65%+. If you would like to take it further, you can filter by odds. So why not show games with odds of 1.80 or above, whilst only showing games that have a 2.5+ Goals Rank of 65% or more. You are in control.
Latest Tutorials