Return to Academy
How to Easily Track Your Football Bets and Predictions
Since October 2018, FootyStats has allowed users to save and track predictions. This is a very useful feature for those that want to get better at gambling, work on a new betting system or just track and compare their predictions against friends.
Track Predictions via Head-to-Head Pages
Once you have finished analysing any of our head-to-head pages, you can have your say on what you think will happen in that game. All without leaving the page. You will see a floating button that says "Add Prediction" at the bottom right of your screen, on both desktop and mobile. To view a list of head-to-head games, simply head to the match feed and select from one of our many games.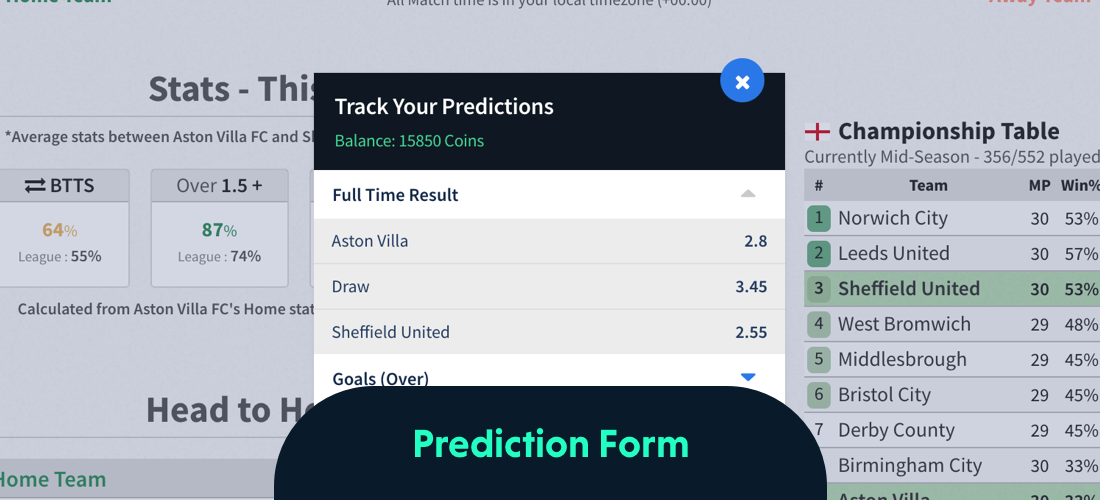 Clicking on this button will open up your prediction slip. It allows you to view the markets, odds and save your prediction with ease. Stakes for predictions are placed using virtual coins. We give every FootyStats account a starting balance of 1000 coins, it's then up to you to try and turn that into as much as you can.
If at anytime you would like to reset your predictions, you can do this inside your profile. Your history will be deleted and you will return to 1000 coins.
As well as submitting predictions, you can also thousands by other users on our Predictions page. This page acts as the ultimate place online for curated predictions on football matches, by those who know what they're talking about. You can also view predictions for individual games, giving you a better sense of what the whole FootyStats community is thinking.
Predictions allows us to leverage the power of our users and lets all of the FootyStats community benefit.
Predictions Summary
Click "Add Prediction" on Any H2H
~300 Predictions Submitted Daily
You Start with 1000 Coins
View All on /Predictions
Be The Best, With Leaderboard
Latest Tutorials