Free Football Widgets for Your Blog or Website
Sharing is caring, and here at FootyStats we are all about it. You can now embed our data onto your website, blog or app in a matter of minutes. Use the tool below to create your widget and get started.
Create Widget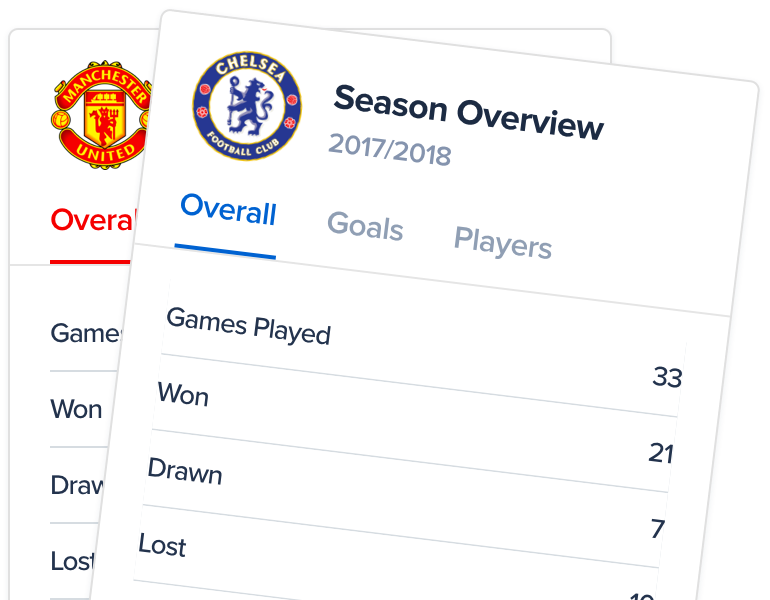 Always Live
Our data is constantly being refreshed, meaning your widget will always have the latest fixtures, stats, player and results. There's no need for you to maintain the widget once it's live.
Beautifully Designed
We have crafted these widgets in such a way that they will slot right into your website. They are fully responsive, completely interactive and wonderfully modern.
Easy Installation
Use the tool below to generate your widget and the code you need. Paste the code onto your website, or in your WordPress Widgets and you'll be on your way in no time.
League Table Embed / Widget
Show your favourite league on your website with this beautiful widget. To get your widget, start typing the league you would like below:
Premier League
Championship
League One
League Two
Bundesliga
Serie A
La Liga
Ligue 1
J1
Premiership
Super League
Eliteserien
Embed Code:
<div id="fs-standings"></div> <script> (function (w,d,s,o,f,js,fjs) { w['fsStandingsEmbed']=o;w[o] = w[o] || function () { (w[o].q = w[o].q || []).push(arguments) }; js = d.createElement(s), fjs = d.getElementsByTagName(s)[0]; js.id = o; js.src = f; js.async = 1; fjs.parentNode.insertBefore(js, fjs); }(window, document, 'script', 'mw', 'https://cdn.footystats.org/embeds/standings.js')); mw('params', { leagueID:
93
}); </script>
Upcoming Match Embed
Show your favourite teams next game with this beautiful widget. To get your widget, start typing the team you would like below:
Liverpool

Arsenal

Real Madrid

Blackpool

Inter Milan
Embed Code:
<div id="fs-upcoming"></div> <script> (function (w,d,s,o,f,js,fjs) { w['fsUpcomingEmbed']=o;w[o] = w[o] || function () { (w[o].q = w[o].q || []).push(arguments) }; js = d.createElement(s), fjs = d.getElementsByTagName(s)[0]; js.id = o; js.src = f; js.async = 1; fjs.parentNode.insertBefore(js, fjs); }(window, document, 'script', 'fsUpcoming', 'https://cdn.footystats.org/embeds/upcoming.js')); fsUpcoming('params', { teamID:
93
}); </script>
Embed Code:
<iframe src="https://footystats.org/api/club?id=
5
" height="100%" width="100%" style="height:420px; width:100%;" frameborder="0"></iframe>