Return to Academy
Finding Value with The Match Search
There are many ways to explore matches on FootyStats. The most powerful, by far, is the match search. In this piece of content we will show you how to best use this tool to find great value bets for a wide range of markets.
Layout and Functionality
The search page is split into three different sections. First, you will see the date selection. Next, you'll see the filters and other search tools, giving you the ability to reset all filters back to default or download your results to CSV for a more detailed inspection. Our power users love this feature.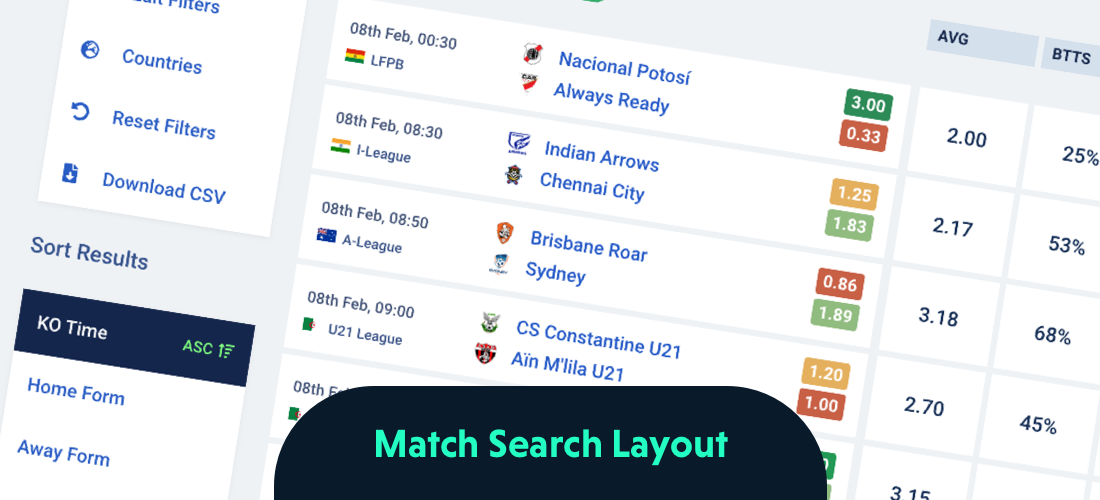 Finally, we have the search results. This is where the magic happens. By default, the match results will show all games that are occurring within a 7-day window. You can begin to edit the search filters by clicking or tapping "Edit Filters". The location of this depends on your device.
We built the new match search from the ground up, with a core focus on speed, accessibility and the ability to find value with just a glance.
If you're on a mobile device, we have designed a floating navigation that will stay with you whilst you browse your search results. This makes editing your filters quick and effortless. For those viewing on desktop, you will see a familiar interface, with the tools and additional information to the left side of the page. In both instances, these tools allow you to do the following:
Edit Filters
The majority of our filters work on a minimum and maximum range, giving you more flexibility and allowing you to find your perfect match.
Reset Filters
Already found what you're looking for, or wanting to start fresh? No problem. Reset the filters and you will be right back where you started, showing all games in the next 7 days.
Filter by Country
This smart filter will show you all of the counties that has games within your selected date. You can then easily select a list of countries to show. This is great for those who want to find a specific set of matches. As an example, you could show all strong home teams that are playing in England on Saturday. This magic query would take seconds to create.
Download CSV
We allow our users to download our tables to CSV, so they can create their own functions, queries and models. The CSV will download all of the matches that fit inside your current search results.
Sorting Results
This is a really important part of the search experience. With just one click, you can sort all of your results by one of the following fields:
KO Time
Away Form
AVG Goals
BTTS Potential
If you're viewing the search tool on desktop, you can also click on any of the table headings to sort your results.
Find Value Effortlessly with Quick Filters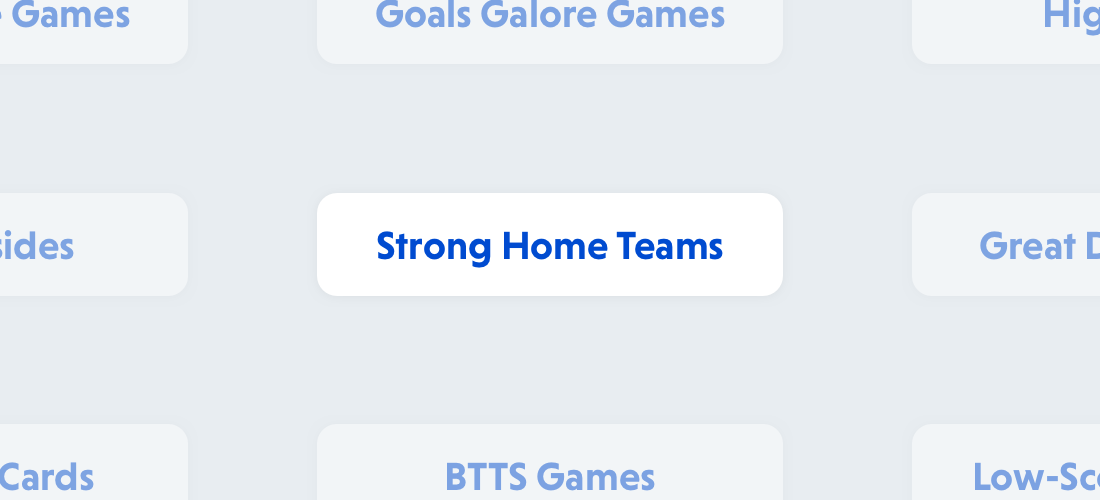 When we launched our brand-new search experience, we also introduced an incredibly easy way to find matches worth betting on. We call these /Quick Filters/. These will adjust the search filters automatically to show you games that fit the description. Currently, we offer the following:
Strong Home Teams
Strong Away Teams
Goals Galore
BTTS Games
Low-Scoring Games
Reading Your Results
After selecting your filters its now time to view your results. On both desktop and mobile, each game is split into two sections. Information and key stats. We'll walk you through these for each device experience:
Mobile Results
If you're viewing on your phone, or any mobile device, you will notice a fixed header that stays with you as you scroll. This shows you how the results are currently being sorted, by default this is kick-off time. To the right of this indicator, is a couple of buttons that will toggle between stats and odds. Clicking on odds will swap out the current stats for the odds.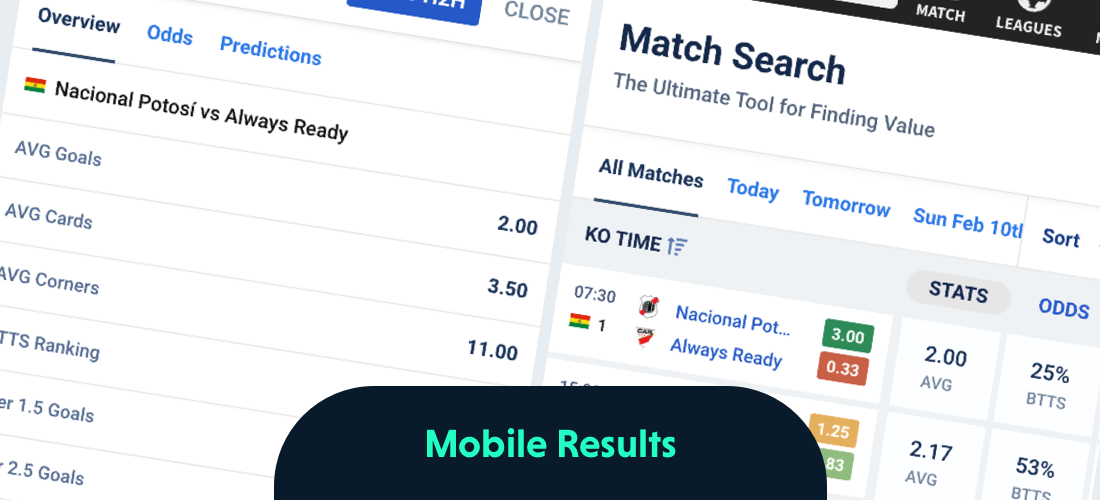 Due to the space restrictions on mobile devices, we had to be creative with how we displayed our stats. We implemented a smooth horizontal scrolling feature, simply swipe across on any game to see more stats. If you would like to explore that game in more detail, you can tap on the team names to open our quick previews. This overlay will show you the following:
Match Stats
Odds
User Predictions
Desktop Results
Desktop users will notice that the table has a row of items above the search results. These are the headings, such as: /AVG, BTTS, +1.5 GLS/. These headings automatically chop and change depending on your search filters. Smart, right? They will also remain fixed as you scroll, making it easy for you to scan through results and calculate value. Tapping on any of these stat headings will sort your current results by that specific stat.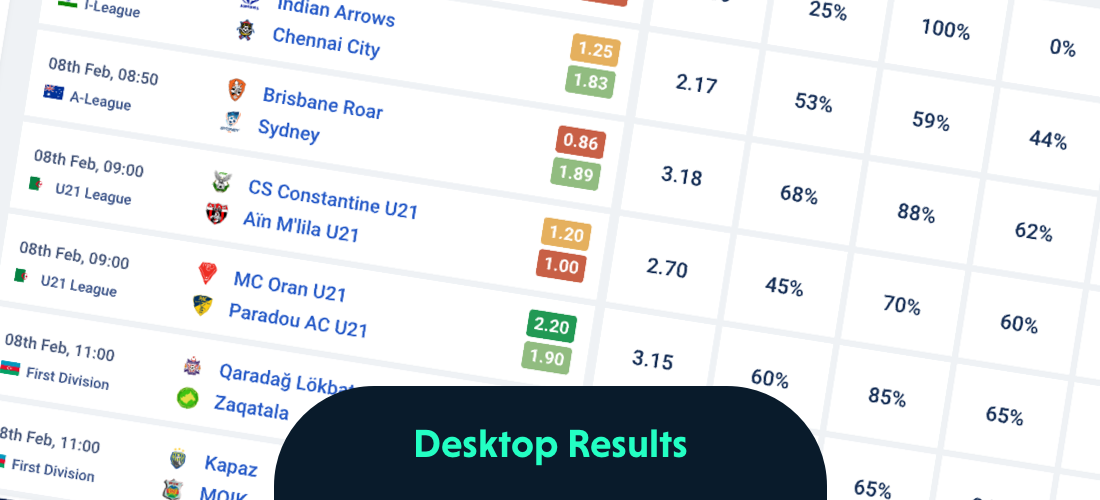 If you have filtered your results by odds, we will automatically place these in your stat headers and give them a different colour. Stats appear as light blue, or dark blue when selected as the main sorting property. Odds will appear as green so you can easily differentiate between the two.
Exploring The Search Filters
The match search tool has an ever-expanding set of filters. Currently, we allow you to search and filter on the following stats:
Matches Played
PPG (Points Per Game)
AVG Goals
BTTS Potential
Goals (Over/Under Potential)
Half Time Goals (Over Potential)
AVG Corners
AVG Cards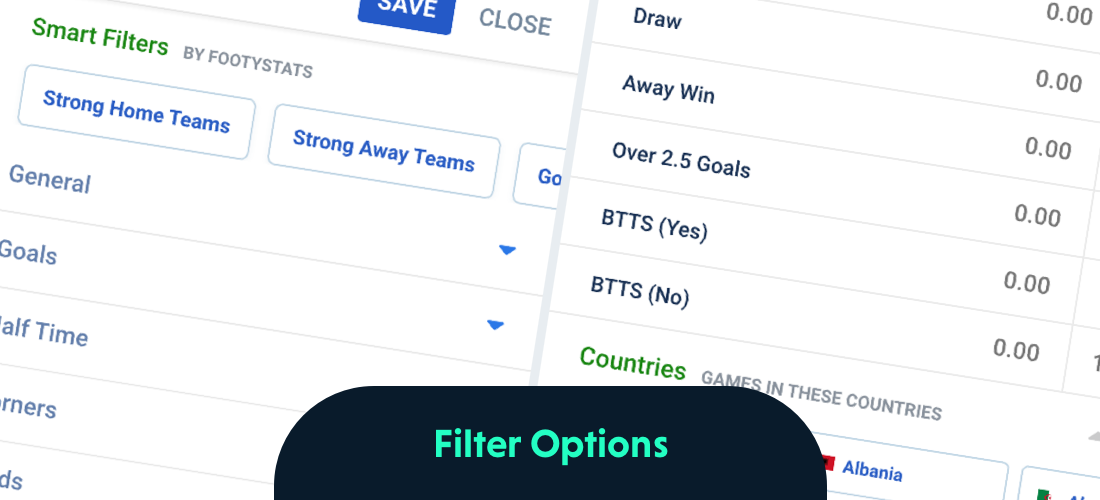 We also allow you to filter your results by odds. This makes this one of the most powerful tools on the web for finding high value matches. Check out the following video to see the power of the match search. Currently, you can filter and search for the following odds:
Result (1/X/2)
Over 2.5 Odds
BTTS (Yes/No)
Example Filter Combinations
Here's a few examples of why this tool is so powerful. We have put together a few example filter combinations:
High Value Bets for Home Teams
Using the quick filter, we can show strong home teams that are playing in the next 7 days. Then, we can simply tell the filter to show games where the odds for a home victory are 1.80 or higher. You can go lower, or higher, it's completely up to you. Doing this search will yield incredible results, as well as showing you the odds for every game next to the PPG. You can also flip this search for away teams. Happy hunting!
High Value Bets for BTTS Games
Finding great value is so easy with the new filters. In this example we will find all games that has a BTTS ranking of 65% or more. Then, we will tell the search to show us games where the odds are 1.60 or more. You can then get even better results by sorting the table for BTTS ranking.
High Value Bets for Goal Galore
The Over/Under makers are insanely popular with our users and with the betting community in general. Simply sort the search results by AVG Goals and then edit the odds filter to find those games worth betting on. In many cases, we have found games with 3.50+ goals on average where the odds are ~1.90 for Over 2.5 Goals. You can find these games on a daily basis.
There are hundreds of possible combinations and even more filters and stats coming in the next couple of months.
Latest Tutorials