Premium League
To unlock everything for this league and hundreds of others, simply upgrade to premium.
Go Premium
Paulista Segunda Divisão
Stats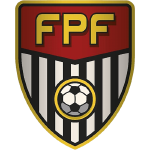 The Paulista Segunda Divisão is a competition in Brazil. This competition is 56 complete. Who do you think will be champions at the end of the season? It has an above average record for goals per game.
Paulista Segunda Divisão Table
(Brazil) - 2019
Brazil - Paulista Segunda Divisão Detailed Stats
Paulista Segunda Divisão Stats
(Brazil) - 2019
0
min/Goal
(0 Goals in 135 matches)
+0%
Home ATK Advantage
(Scores 0% more goals than usual)
0%
Clean Sheets
(0 times out of 135 matches)
0%
Home DEF Advantage
(Concedes 0% less goals than usual)
0%
Both Teams Scored
(0 times out of 135 matches)
88%
- High Risk
(Scoreline is very unpredictable)
*Goal Heatmap shows when the goals happen in this league.
Red = High scoring. Yellow = Average. Green = Low Scoring
Paulista Segunda Divisão Trends
(Brazil) - 2019
Frequent Total Goals - Full-Time
Frequent Scorelines - Full-Time
Over - Corners
Over - Cards
Half Time Stats (1st Half / 2nd Half)
* FHG = First Half Goals in Brazil - Paulista Segunda Divisão
* 2HG = Second Half Goals in Brazil - Paulista Segunda Divisão
Frequent Total Goals - Half-Time
Frequent Scorelines - Half-Time
Paulista Segunda Divisão Player Stats
Top Scorers
* Stats from 2019 season of Paulista Segunda Divisão
Top Assists
* Stats from 2019 season of Paulista Segunda Divisão
Most Clean Sheets
* Stats from 2019 season of Paulista Segunda Divisão