Arsenal
- Stats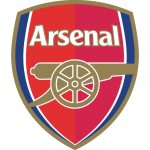 Prediction Risk - 96% - High Risk
Currently Mid-Season - 277/380 played
• Arsenal is in the 6th position of Premier League Table

Arsenal FC Squad
*Arsenal FC Roster and stats are retrieved from 2017/18 Season
About Arsenal FC
Arsenal (The Gunners) is a team in England, managed by Arsène Wenger, who currently play in the English Premier League. Arsenal were originally Formed 1886 under the name Dial Square. Arsenal play home matches at the Emirates Stadium in London with 60,432 Capacity.

The last league title won by arsenal was the 2003–04 Premier League Season while the last FA cup was in 2016-2017. Arsenal are only 1 of six teams to win premier league since its formation in 1992 hold the 3rd highest Champions league titles in Europe with 13.

One of many Arsenal stats that will stick in the mind of fans is Thierry Henrys 228 goals in all competitions between 1999 and 2012. For more current information about Arsenal FC, learn from ArseDevils.
Performance

- Arsenal
Fixtures & Match Results

- Arsenal
0

min
Max

0

goals after

0%

goals before

0%

goals after
AVG

0

goals before
AVG

0

goals after
49'

Against 4'

Against 11'

Against 63'

4

2'

45+2'

83'

85'

Against 5'

Against 29'

Against 56'

7
Full-Time (FT) STATISTICS

- Arsenal
Get Extra 100 Profitable Leagues.
+ Corner Stats
Premium will get you more wins. 100 Extra leagues known to be profitable and less tracked by the bookies. Plus, you get Corner stats and Card stats along with CSV. Subscribe today!
GF
GA
AVG
Overall
1.89
1.33
3.22
Home
2.77


/ match

1.08


/ match

3.85


/ match

Away
1.07
1.57
2.64
Frequent Total Goals - Full-Time
2-03
4-31
3-01
2-11
5-01
1-31
1-01
3-31
2-21
4-11
5-11
Frequent Scorelines - Full-Time
Half-Time (HT) Statistics

- Arsenal
Winning at HT
Draw at HT
Losing at HT
Overall
37%
41%
22%
Home
62%


(8 / 13 Matches)

15%


(2 / 13 Matches)

23%


(3 / 13 Matches)

Away
14%
64%
21%
GF

(HT)

GA

(HT)

AVG

(HT)

Overall
0.81
0.44
1.26
Home
1.38


/ Matches

0.46


/ Matches

1.85


/ Matches

Away
0.29
0.43
0.71
Frequent Total Goals - Half-Time
1-04
2-02
0-12
4-02
2-21
0-21
0-01
Frequent Scorelines - Half-Time
Goals Scored & Conceded by 10 minutes

- Arsenal