Return to Betting Systems
Late Corners System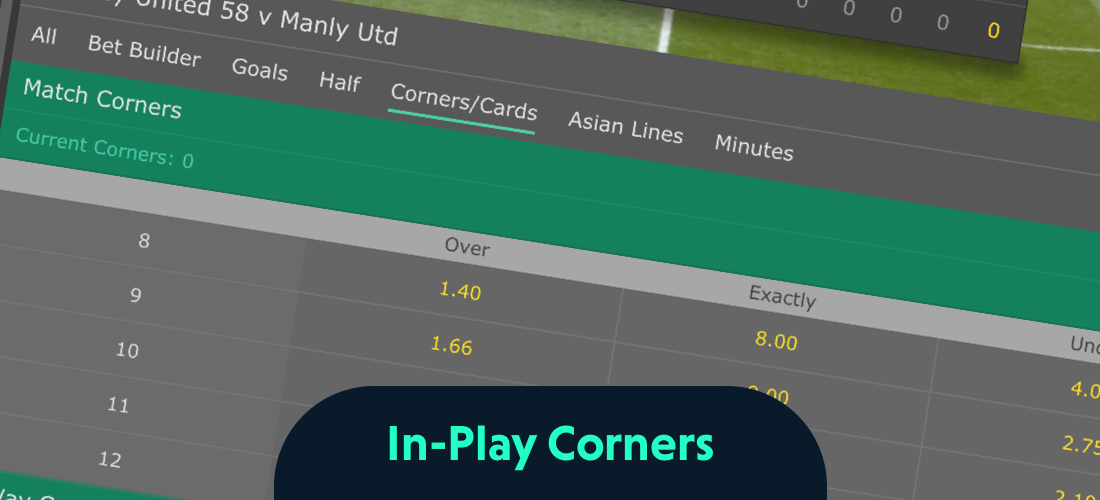 The Corner Betting System: Late Corners
Welcome to the 3rd betting system of this 10-part series. In this system, we will be focusing on corners, specifically first-half asian corners. If you are unfamiliar with corner markets, or how to find stats to take advantage of them, please visit our recent academy article on betting on corners.
Whilst other articles in this series give you strict guidelines on the odds and markets to bet on, this system will act as more of a guide on how to look for value whilst a game is being played. As always, you will need to have a degree of control and responsibility. We will be betting on late first-half corners using the Asian Corners market.
Navigation:
First, a piece of advice that follows on from our academy post. Know your teams and do as much research as you possibly can. It goes without saying that betting blind, based on little stats or on a "hunch" you have will leave you winning only if you're lucky. That luck will eventually run out.
Knowing your teams is important, especially for corners. Of the thousands of teams on FootyStats, there are those that will attack relentlessly, regardless of the scoreline. Then, there are teams that will sit back as soon as they get that first goal and be content with defending their lead, or sporadically hitting their opponents on the break. The way teams play is important. A side that continues to attack despite taking the lead will continue to get corners.
A side that's currently behind, but the better side statistically, will also continue to press and is likely to get more corners. These are key factors to keep in mind when placing your bets, and it's also why this betting system will focus on in-play betting rather than pre-match corner betting.
Don't Bet If…
Early Goal
As I mentioned previously. Goals change games, especially early goals. Tactics can often go out the window so if you have done your research before the game and had an expectation coming into this, it might have changed dramatically. Teams will naturally lower their tempo and attacking intent after going in-front. Some teams won't, but why take that risk?
Lack of Knowledge
If you're looking at a fixture that's starting soon or is currently in-play but you don't know the teams, or the league, leave it. We are creatures of impulse and we love to think that we know more than we should, but if there's a gap in your knowledge either fill it by doing your research or save your money. You can't lose it if you don't spend it.
Odds Don't Match Your Value
When you're doing your research pre-match or during the game, think about what odds you would consider valuable. Why? Because you can be sure that the bookmakers have, and they will rarely be the odds that you see when the game gets underway. If those odds are not quite there yet, wait. This is where you exercise patience and discipline.
Early In The Season
Unless you know the team well enough, leave the fixture completely if the league campaign is still getting underway. These rules are all about mitigating the risk you take. Teams are still finding their way and we see plenty of upsets early in the season. The same goes for pre-season friendlies, just leave them alone. Don't bet and you don't lose.
Acting against impulse is like training a muscle. The more you do it, the better at flexing it you will become. We have all placed bets that we later regretted, even if they won. Sometimes the worst thing that can happen is that they win, justifying our poor betting strategies.
Finding Leagues
I will start my research journey on the Corner Stats page, looking specifically at the table towards the bottom of the page that contains the top competitions for the number of corners awarded in the first-half of games. You can view the following stats:
+4.5 Corners %
+5.5 Corners %
+6.5 Corners %
Total Corners
AVG Corners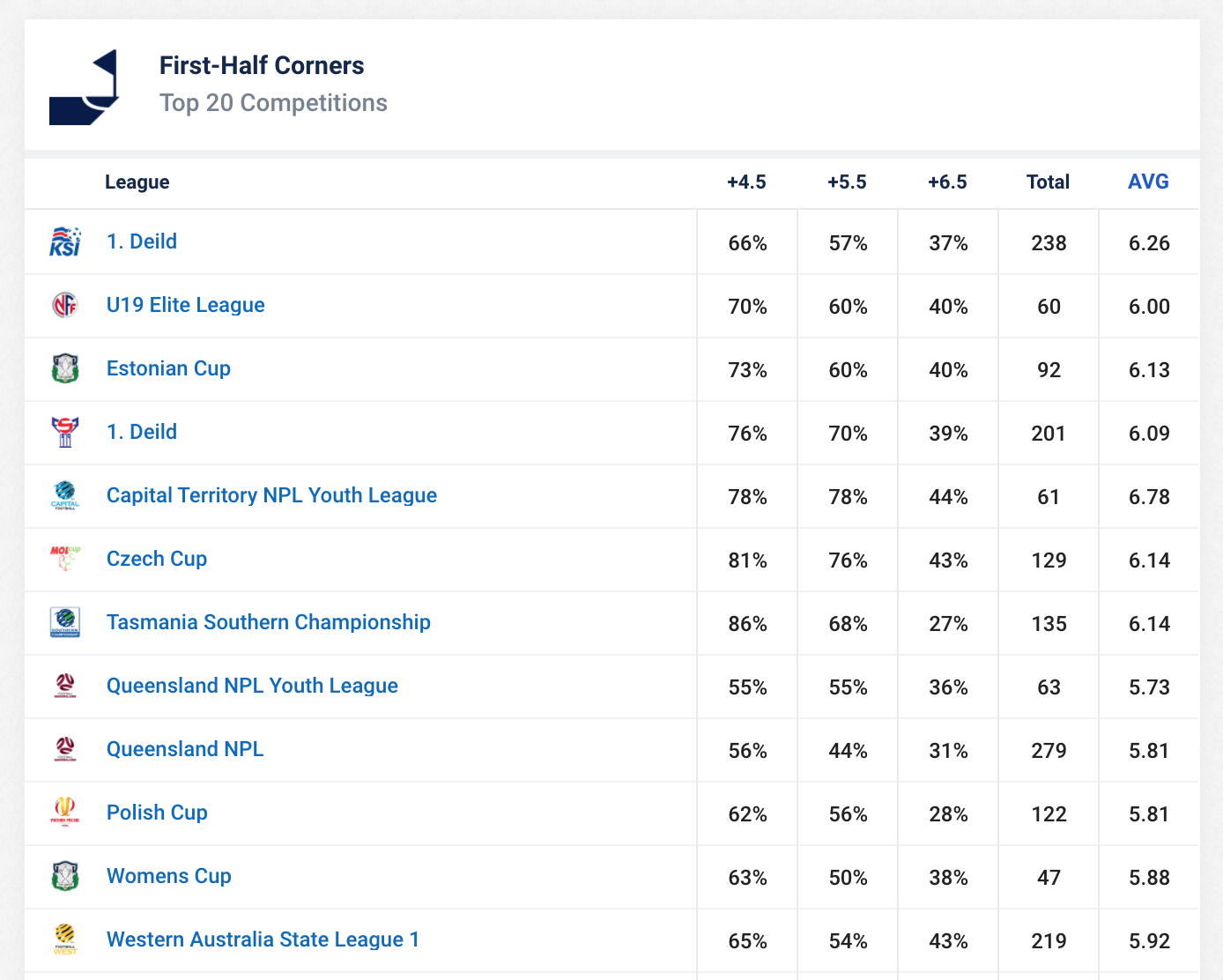 At the time of writing this, the top league for first-half corners is the 1 Deild in Iceland. I'll open that league in a new tab, as well as a few others from this list and start to explore the upcoming fixtures.
Finding Teams
From the individual league pages, we have a couple of useful options. First, we can sort the table by the number of corners awarded per team. Using the 1 Deild as an example, I can see that UMF Grindavík leads the charts with an average of 8.50 awarded per game. That's pretty good.
Let's dig deeper. Head to "Detailed Stats" and then "Corner Stats". You will find a table like the one below.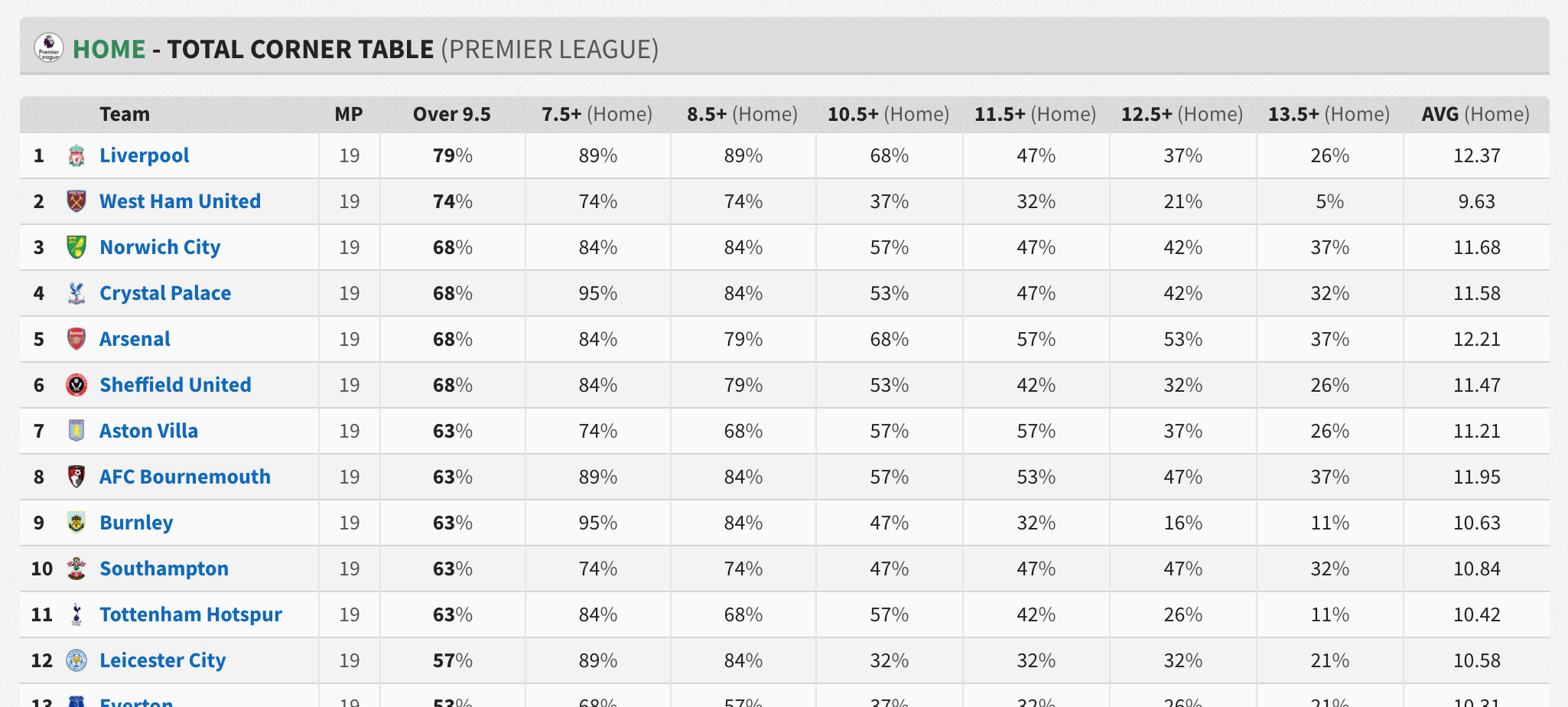 Look for the following stats:
First-Half Corners
Second-Half Corners
Corners For
Corners Against
AVG Corner Stats
These stats are very useful and what do you know, it shows us that the majority of Grindavík's corners come in the second-half. This is why you should never base your bets on a single stat or thesis.
Important Stats
Using the same tables, we can see how the corners awarded differs when a team is playing at home or away. I will typically go for teams towards the top of the table, playing a side that have conceded an above average amount of corners. You don't always need to go for the team rock bottom of the charts. In most cases, the stronger side will be awarded corners regardless of the opponent, given they are not also a top side.
Key Stats:
AVG First-Half Corners
Average Corners For
Average Corner Against (Opponent)
AVG Home Corners For
xG
AVG Goals Scored
AVG Possession
If the team doesn't score that many goals, don't worry. That can actually be a good sign. Why? Because teams get more corners when they fail to score, as long as they are still attempting to score they should be considered for you bets. Look for teams with xG that's higher than the AVG goals scored, and teams that have a decent amount of the ball.
For more details on how to find specific teams for all corner markets, please visit our recent academy post on betting on corners.
Placing Your Bets
The first thing to understand about betting in-play is that no matter how much research you have done previously, games might not go the way you plan. Sometimes, the more research you do, the more confident you become. With corners, goals change games.
With this in mind, I have one key rule that I follow when betting on this market: If the team is winning, leave it.
This follows on from one of the aforementioned basic rules. If the team is going into ~30 minutes with the lead, leave this game. You might feel that because you did the research you need to bet, but this is also part of the discipline training. You will need to do a lot of this, as not every fixture can match the criteria required for this market.
Pro Tip: Try not to stay glued to bookmakers in-play screen, as you'll only be tempted to bet on something that hasn't passed your filter. You can set reminders on your phone. You might think this is overkill, but I firmly believe that the amount of effort and preparation you put in will have a direct effect on the output you get out. If you fail to prepare, then prepare to fail. The harsh reality of betting.
The Market: First-Half Asian Corners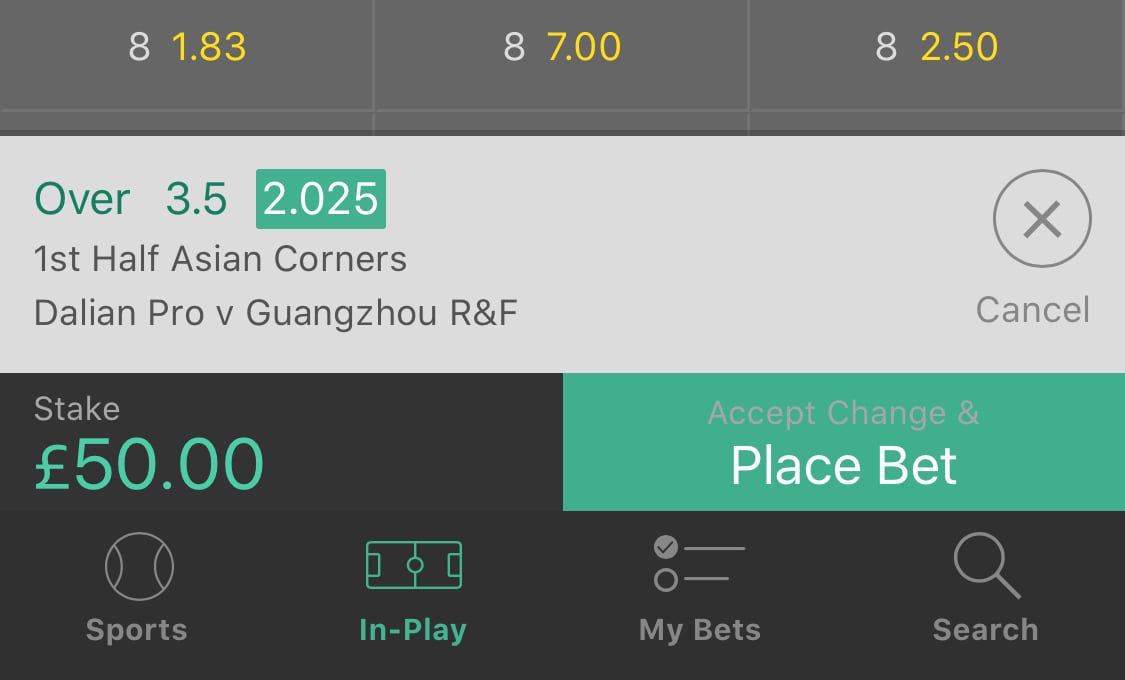 We will be betting on First-Half Asian Corners. This is a personal favourite market of mine, so let me break it down. First, there's less risk involved than other markets due to your money being returned in some cases.
If UMF Grindavík is playing at home and there is currently just a single corner in the game after ~25-30 minutes, I would expect the First-Half Asian Corners market to be ~2.00 for 2+ First-Half Corners.
Possible Outcomes:
Corners at HT: 3+, Bet Wins.
Corners at HT 2, Push (Money Back)
Corners at HT 1, Bet Loses
You can see why people love this market. As soon as those odds hit, you have 15 minutes (or more) for either side to get a corner. The stats available on FootyStats, and the research you have done will give you authentic confidence going into a market like this and after a while you will start to feel like you really do have a strategy when it comes to betting on corners.
Here's what you should be looking for when placing this bet:
~25-30 Mins
First-Half Asian Corners
Odds Usually ~2.00
0/1 Corners Currently
System Summary
I have avoided mentioning a required stake as I understand that everyone bets in different ways. The key is just find a bankroll system that works for you. Some key rules I personally follow include never betting all of your bankroll on a single bet. This is painfully obvious, but also painfully familiar for far too many bettors. Another would be to adopt a proper bankroll management technique. Personally, I bet 5% or 10% of my bankroll on all bets, depending on the confidence and the odds available.
We are betting on:
First-Half Goals
~25-30 Mins
Strong Team vs Average / Poor Team
Strong Team Preferably at Home
Consistently Gets 1H Corners
0/1 Current Corners
Odds ~2.00
First-Half Asian Corners 2+
However you decide to progress, do so with real discipline and research. Treat betting like a business and I believe you will be successful. I hope you enjoyed this betting strategy. If you have any thoughts, feedback or would like to discuss betting on corners further, please comment on Twitter.