Return to Betting Systems
The 5% Daily Profit System

The FootyStats Guide is a 10 part series in which we share the secrets and formulas we use to find profitable markets so that you too can have an advantage. In Part 1 and 2, we shared Lazy Man's Accumulator system and the Under X In-Play system.
Today in Part 3 we're going to go over The Daily 5% Profit System where we will try to slowly increase your bankroll, safely. Let's start!
When it comes to bankroll building, there is one thing that is required more than most. Discipline. Should you possess plenty of it, your efforts will be financially rewarded, should you lack it and have a hastier approach to betting, you can lose everything all too quickly.
When aiming for the pursuit of riches, it is always good to have an end goal in mind and with a roadmap to your individual promised land, you can start placing informed bets with a much clearer focus.
Countless punters have fallen by the wayside, as they are punished for being too aggressive or failing to have an exit strategy in mind. Had they showed an element of pragmatism to their approach, long-term gain would replace short-term pain. Which is the purpose of this strategy - a strategy that provides a slow and steady approach to profit building, while also mapping out the kind of bets required to carry it out to its fullest potential. A strategy known as the 5% Daily Profit System.
With steady daily returns, this is certainly one for the long haul and although it will not make you rich overnight, it will certainly foster good betting habits and install discipline that you may not have had in the past.
Of course, like so many of these systems, the more you put into start with, the more you will hopefully walk with at the end and with such a low-risk method, there is no reason that you cannot opt for a sizeable investment from the start.
Step 1 - How To Start Off
For the purpose of this system, we will start with an example of just $5 (although the starting figure can be of your choosing) and by the end of the day, we want to continue with our starting amount and an additional 5% return on investment.
Now there are many ways, in which we could get to our end goal for the day and plenty of bets that could be placed. However, we want to approach this, with as much of a low-risk stance as possible and that makes markets such as Over 0.5 total goals, as one which is highly attractive.
Goals are the currency that win football matches and with this underlying principle in mind, we only need a solitary effort to hit the back of the net on Day 1. Should this be the case, then the first of our many daily objectives will be met.
Step 2 - What Odds/Markets Should We Be Looking At
In any profit system, there is always going to be the weigh up of risk vs reward and although the majority of these bets will be ones of maximum exposure, the probability of a winning punt is steeped in the punter's favour.
When it comes to Over 0.5 total goals, betting on the likes of Manchester City or Real Madrid will not hit the threshold we need (they will be priced nearer 1.02 or 1.03 in terms of at least one goal per game), and therefore, we need to be looking at the 1.05 mark instead.
A slight upturn in terms of risk, but still a 95% probability of our first bet getting over the line and beginning the start of our daily disciplined bankroll build. A beginning that looks like this for example:

At odds of 1.06 for Fulham and Cardiff to show at least one goal between them, it matched the threshold required and it also got the system off to a flying start. Which meant, even with 100% maximum outlay in terms of exposure, the account has been restored plus our 5% return.
With Day 1 cleared, we move on to Day 2 and follow the exact same approach in terms of maximum exposure versus probability in our favour and this sees us follow up with another Over 0.5 total goal bet:

Again, more of the same and onto Day 3, which would also see a bet placed within the 1.05 threshold and get over the line. Which meant after the end of Day 3, this streak was now in place: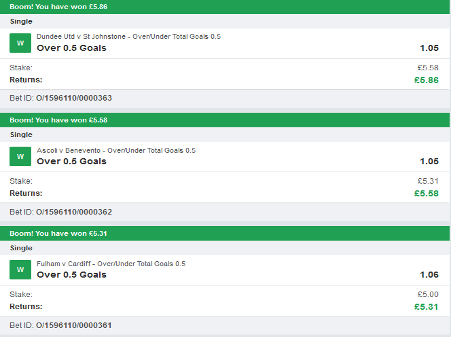 One that had already seen an overall return of investment of 17.2% and ready to continue onto a fourth day of minimal risk betting. With that said, you are not going to want to bet with maximum exposure all the time and therefore, a change of tact will eventually be required.
Step 3 - When To Hold And When To Fold
If you can get to Day 16, you will be in a position where at least 100% profit has been made (on the proviso you have bet 1.05 at least per day) and should this be the case, you do have the option to bank your original stake.
However, if you are feeling more bullish about your chances and do not want to go all in after this, there is always more liquidity to now play with and you may want to bet slightly lesser stakes and double your efforts.
For example, betting 50% of your bankroll on 1.10 odds twice a day, would provide the same overall 5% return. While although it offers an 'extra life' as it were, you are now asking the system to work twice as hard.
However, if you were inclined to double up per day, it perhaps makes more sense to continue with the maximum exposure stakes, but place two bets of 1.02 or 1.03 instead – increasing your probability of a win to 97/98% and eventually hitting your daily profit threshold.
In addition to this, do not be afraid to cash out and take a hit, if you feel the game is not as entertaining as you first hoped and a 0-0 is on the horizon. Better to take a small loss through a cash out, than opposed to losing everything and reinforcing the mantra regarding discipline.
Step 4 - Number Crunching
With that said, research is certainly your friend and always take into consideration factors such as goals scored/conceded and amount of times each club has played out a game that has ended in Both Teams To Score.
For example, you can the statistical resources such as ones found on our website and a good starting point would be the Over/Under goals guide
This tool will offer a detailed level of insight and highlight the number of times each individual club has cleared the different goalscoring thresholds. However, you may also want to dig a little deeper when it comes to pre-match analysis.
While for further context, you can also access our divisional guides and in doing so you can compare the fortunes of the two opposing clubs and whether the propensity for goals will be high https://footystats.org/england/championship/over-25-goals-table
Any team well known for its defensive output or inability to score will always be something of red flag here and as a rule a thumb, wait about six weeks into any season before starting the system – that way, you get a better idea of form/statistical patterns.
Summary
Ultimately it all boils down to patience and how long you feel you can run such a streak, but if we were to look at this from a 30 day approach on the basis of $100 to start with, your end of system return would look like this: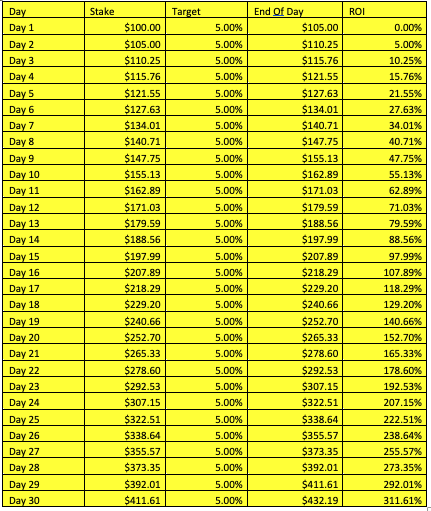 More than a 300% return (with no withdrawals) on bets that offer you a high probability of winning and via a trusted disciplined method. Yes, it is not a quick win, but nothing rarely is in the betting world and if you are prepared to offer patience, you will be eventually rewarded for your time.
Cheers, and enjoy the money that you've just made!
FootyStats Team